I have been following the fortunes of Yours Truly Theatre (YTT)for a while now, in keeping with my interest in the young theatre groups of this city. Yours Truly has been a pioneer, in Bangalore, in staging Interactive Theatre, where the audience takes on an interactive role in the staging of the play, rather than be passive spectators to a preconceived ending. Now they have several other initiatives, too, such as plays for children, students, and for underprivileged people,
I've watched their last play, "Common Man", but had missed the earlier shows of "Bhagwan Dhoondo", and so decided that I'd go and see the fourth show, at ADA Ranga Mandira, on the 29th August, 2010.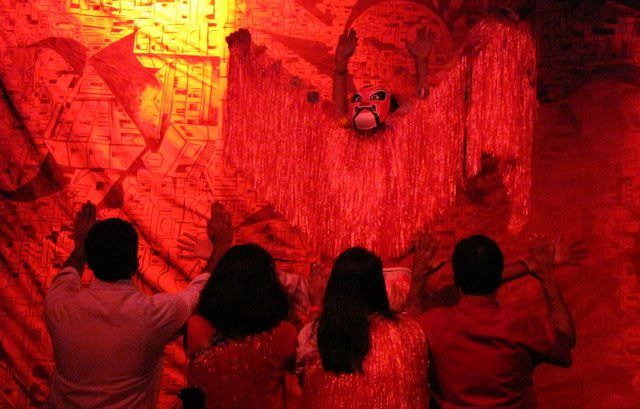 "Bhagwan Dhoondo" has a loosely structured first half, that introduces characters that are not fully clarified, except in the state of their existence in the city, and in the second half, the compere, Ranji David, takes responses from the audiences and picks one of these characters. Based on the inputs from the audience, the denouement is staged by the cast,.consisting of Abhijit Madhawaraj, Chetan Nataraj, Nandini Rao, Ramya M, Ranji David, Shalini Goel, Sumit Acharya, Sudarshan Ranganath, and Vishal Bhandary.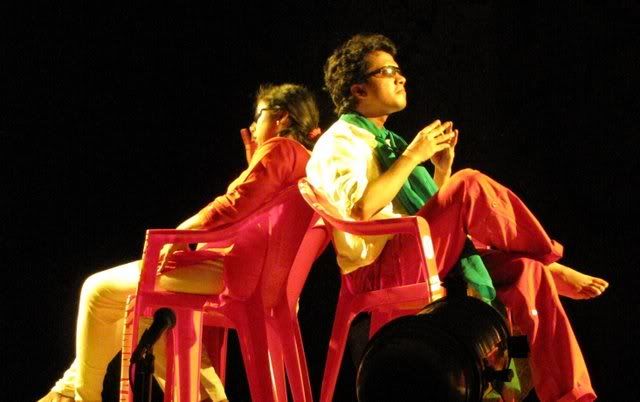 One thing that struck me immediately was that the visual idiom of YTT has progressed a lot since I last witnessed one of their performances. They had always used colourful props like scarves and umbrellas, but in the present production, several props and red-motifed costumes were in evidence, and abstract concepts such as individuals joining the herd mentality of wanting "more" were expressed tellingly with the aid of one huge covering into which the actors disappeared. Cloth props were also used to great effect; a shroud-like covering was used to highlight characters, and make a statue in the park! I must congratulate Kuheli Mukherjee on her innovativeness with costume design.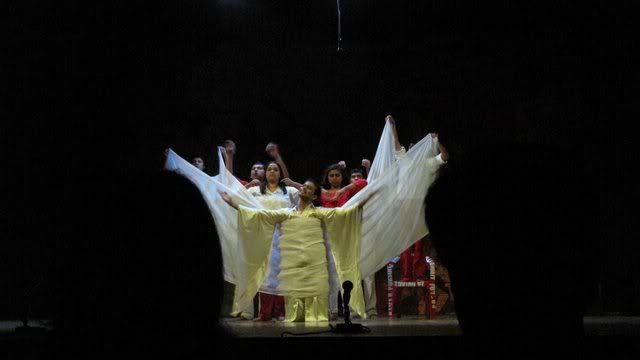 The light design by Ranji David, and the light execution by Deepak Trivedi, were both impressive. Situations and characters were highlighted, and the use of smoke on stage truly made a palpable stage aid of the light.