Talk by Dr Michael Goldman at ESG, Jayanagar
Today, Environment Support Group, which is working in many ways for the commons of Bangalore and Karnataka, organized a lecture on 'Rethinking the Indian city, reclaiming its Commons" by Professor Michael Goldman.
Here's the background about Prof. Goldman that ESG gave in their invitation mail:
"Prof. Michael Goldman is a McKnight Presidential Fellow and professor of Sociology and Global Studies at the University of Minnesota, in Minneapolis, USA. He is the editor of Privatizing Nature: Political Struggle for the Global Commons (Rutgers University Press and Pluto Press), and the author of Imperial Nature: The World Bank and Struggles for Social Justice in the Age of Globalization (Yale University Press 2005; Orient Longman India 2006; Kyoto University Press [in Japanese] 2008), based on a decade-long ethnography of the World Bank. He is currently conducting research in Bangalore on the project,"Bangalore: The Making of a World City,"focusing on the transformations of land, government,and citizenship taking place under liberalization."
Here's Leo Saldanha of ESG, introducing Professor Goldman: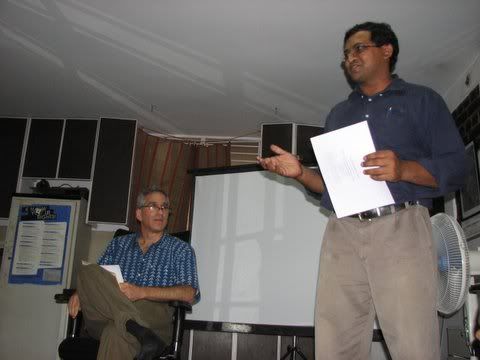 Professor Goldman did not use a Powerpoint presentation or slides; he spoke from handwritten notes.
He spoke about how, in the present scenario in Bangalore, it is the city itself which is becoming a hurdle for those who are of the opinion that privatizing or commandeering the public spaces and roads of Bangalore will help in the city's "development", and to whom the city is real estate to be developed. To them, open spaces are a waste of value, and value can be realized by "developing" those spaces, even if that is at the expense of the people who use, live on, and survive in those common spaces.
He agreed that many of the processes which define the economy of the city, and the hidden economy of land dealers, are complex and hidden, but emphasized that in his opinion, these must be documented in order to understand the totality of the system and bring more transparency into it.
Several people in the audience raised their concerns about the apathy of the average middle-class citizen to such concerns, and about the difficulty of getting correct data from such an opaque system. Prof Goldman's response was to take the data in clear-cut areas, and then collate them to come up with an accurate picture.
A section of the audience: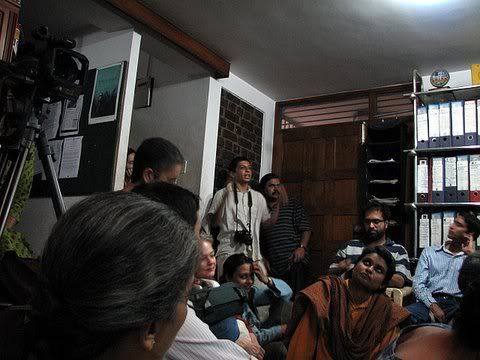 The talk lasted for approximately half an hour; Leo Saldanha of ESG introduced the speaker, and thanked the audience as well after the talk.