Weekend Getaway: Angsana Resort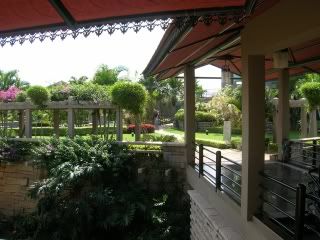 Slightly less than two hours away from Bangalore, on the Doddaballapur Main Road, is a beautiful, vast, enchanting, soothing, quiet, meticulously maintained, manicured and landscaped expanse of trees, plants, and clean, unpolluted air known as Angsana Resort and Spa. One of four locations worldwide, the Bangalore Angsana resort is a great place to get away for the weekend. Not only is it within easy driving distance (in case you just want to go and return the same day), it is also a wonderful place to stay over for a night or two.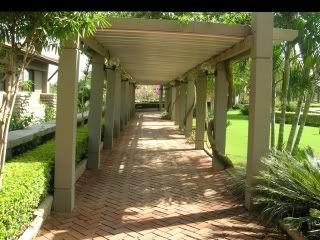 Angsana offers luxurious spa services, conference facilities, a hotel and a restaurant. The drive itself is nothing to write home about. For quite a distance you are stuck in the city and the immediate outskirts are just as bad in terms of road conditions and traffic. Once you get closer to the resort it's a pretty good drive. The roads are quiet, farms and fields and villages greet you as you drive past.
Once you enter the gates, you are transported into lush surroundings about a half a kilometer away from the gates. What strikes you is the calmness of the surroundings. The restaurant is the only space in the resort that is abuzz with activity. Every place else inside the resort coaxes you to be lazy, slow, and to enjoy the surroundings. And there is a lot to enjoy – a vast variety of trees and plans are eye candy for sore polluted eyes.
The restaurant is nothing to write home about. Although the surroundings are comfortable, the food leaves much to be desired. The menu offers many vegetarian and healthy choices for the conscious, but it is lacking in taste and flavor. The grilled cheese sandwich arrived soggy and uncooked, the chicken was flavorless.
The spa facilities on the other hand, are excellent. It offers skilled services in a beautiful, relaxing and soporific ambience, all things to look for in a spa.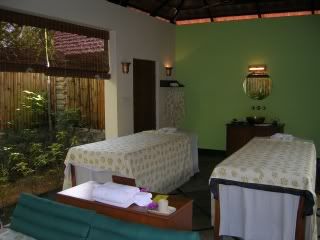 The Angsana resort is a cool place to head to for a special celebration. You'll come back to the hustle and bustle of the city much refreshed, albeit a tad poorer in the pocket.