An intense, absorbing play…that was "The Woman In Me", by Pawan Kumar , that was staged on Thursday and today at Ranga Shankara.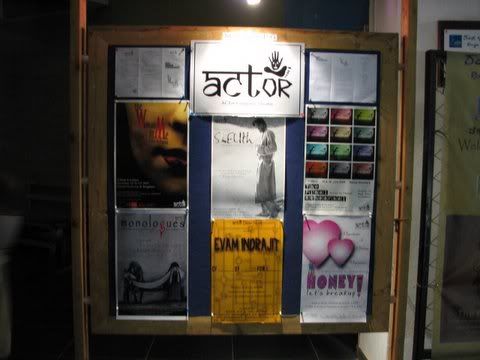 A view of the various plays that ACTof has put up, displayed at the Ranga Shankara foyer.
Rajiv and Nina are a married couple…and Nina is raped and murdered by three men when she goes to a party thrown by the airline that she works for, as an air hostess. Rajiv is a writer, not entirely comfortable at his being at home while Nina puts the bread on the table…
Pawan Kumar slips in and out of the personae of Nina and Rajiv, which confront Rajiv (the audience was not introduced to the actor who played Rajiv, or to the crew, on Friday at least…Pawan, you MUST introduce everyone to the audience at the end, even if this takes a few minutes.), played by another very talented actor. As the woman in the man confronts the man with truths that he doesn't want to admit to himself, layers get peeled away….murder, rape, marriage…what is the definition of all these?
Pawan did fluff his lines a bit at the beginning of the play..but then, his ability to slip into a female persona which is so credible even when he is putting in the balloons in his bustline, and tying the saree on stage….that was superb.
The sequences where Rajiv and Nina reach out to each other, with superb lighting, made for a visual treat.
The props were: two water closets which served as the seating focus, with books, toilet paper, alcohol bottles, and other deteritus of daily life strewn around; two washbasins facing each other, with two buckets (with a fish in each of them, how symbolic!) and two mugs….the toilet was even "used" by "Rajiv" at one point.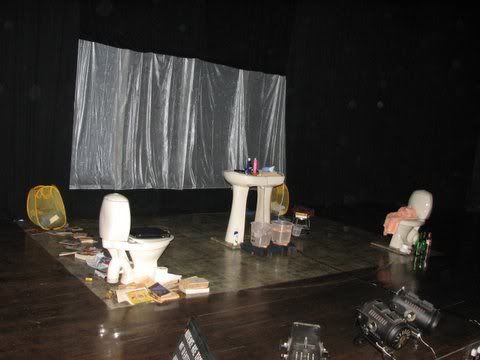 Powerful performances from both the actors enhanced the intense mood of the play.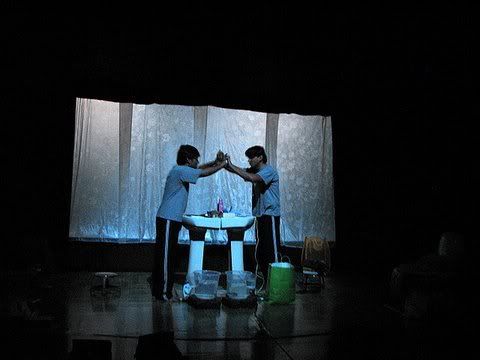 The rapid-fire delivery of dialogue by both of them in one sequence brought home the fevered pitch of thought. The use of shadows to show what happens to Nina is innovative.
The sound was well managed throughout, and voices carried clearly even when Pawan was "behind" stage.
The play disturbed me and made me think hard; I am very impressed that such a young man is able to delve so deeply into the male and female psyche and bring out the nuances of how men do not even understand when they are raping their own wives…
Strongly recommended! (though I would not ask someone who wants a little light entertainment after work, in the evening, to watch this play.) I think that ACTor is a very talented theatre group, and I hope that they go from success to success…