The Importance of Being Earnest: Oscar Wilde Play Staged by Evam, 25 Dec 2008, Chowdiah Memorial Hall
Evam is a talented young theatre group from Chennai, and "The Importance of Being Earnest" was their first home production. They staged two shows at Chowdiah Memorial Hall on Christmas Day.
For the plot and other details of the play,
<a href=" here
is the Wikipaedia link.
Here's the cast taking a bow after the matinee performance: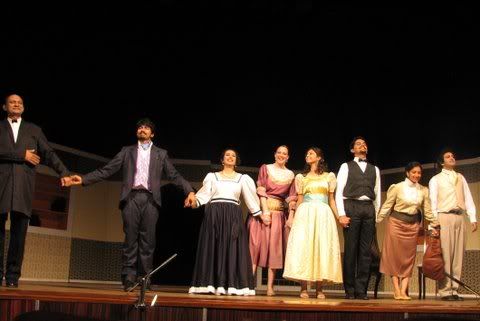 As usual, the cast of the play got their comic timing right, and the audience thoroughly enjoyed themselves, laughing at well-quoted Wilde lines such as "It's a great thing to the 35, I've been 35 for years!", and sometimes laughing at the well-rehearsed comic interaction between the cast members in their various roles.
The sets were designed to provide exits and entry points, and there were a couple of displays of ballroom dancing that had the audience clapping.
However, the sets did take a little time to set up between scenes and acts, and that did break up the narrative a bit, but luckily the plot was not too intricate to follow. The stage properties were fairly simple, and the costumes of the Victorian period done fairly adequately..
Evam also made innovative use of the ticket paper when they used a portion of it to ask for the viewers' contact details. Sunil made the announcement when, at the end of the play, the cast and crew make t take their bows.
However (at least not in the 3.30 show which I attended) the cast was not intriduced to the audiences, and we got none of the names of the crew backstage, either. This, I think, is something that Evam needs to rectify.
Also, at the beginning of the play, Karthik and a few other members of the cast did fluff their dialogue in a noticeable way; so perhaps they are not as word-perfect with the dialogue as they wish to be.
The sets were innovatively designed, but they took time to set up, and it was a good-willed audience which applauded them while waiting in between seats and darkness!
Given the popularity of the play and of Evam's productions up to now, Evam will probably be a smash sellout whenever they visit this city.
But I would still ask Evam if they could do a slightly more serious play, and also contact information.
Wishing Evam success with their corporate co-operation productions,
Deepa.