"Retell" at Ranga Shankara
"Retell", a series of narrative plays, was performed on June 5 and 6 at Ranga Shankara. The production was by Theatre Nisha, a group from Chennai, and the design and direction was by V Balakrishnan.
Some of the narratives were based on translations of the stories of Satyajit Ray, Gopa Majumdar, and others from the works of Goli Taragi, by Karim Emani and Sara Khalili.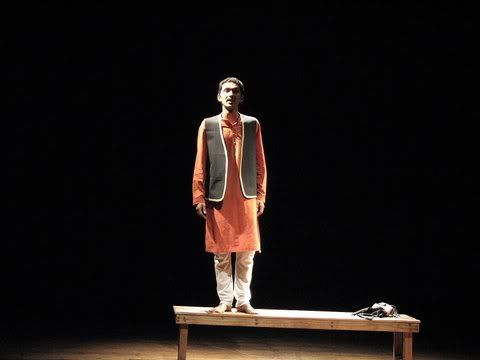 "Bhuto" by Satyajit Ray
Long ago, Star Plus had, as a part of the excellent programming they broadcast, a series of the Satyajit Ray short stories under the serial heading, "Sandip Ray Presents". I distinctly remember Utpal Dutt playing the part of the ventriloquist that was essayed in "Bhuto" this evening…where the dummy slowly becomes a human, yet malignant, presence in the hands of its helpless ventriloquist master.
"Patol Babu" was about an small-time actor who gets to act in a movie for the first time and finds out that his dialogue, consisting of the one word, "oh", can be a great challenge.
"The Pterodactyl's Egg" was a great piece of comedy in which an age-old con is enacted on an unwary person….
The other narratives, "Pomegranate Lady and Her Sons", and "The Encounter", are set in the Iran that is now a country of repression and oppression of women….
Unfortunately, apart from giving the mobile no. of Nikhil (99868 63615) for booking purposes, the single-paper brochure by Theatre Nisha gave no details about the cast or crew, nor any email where they can be contacted.
Nor was the cast or crew introduced at the end of the narratives…and we really missed this, because the cast was extremely talented (we had seen at least two of the cast before in Gowri Ramnarayan's play, but we could not recognize the others). The person, especially, who played Anar Rani Chineri, stole the evening, and she was just wonderful…but so were all the others, especially the powerful last narrative… and we would have appreciated an introduction.
One reason for there being no introduction was possibly that the show ran for 120 minutes…that is a very long time for a show to go on, especially without a break. But Theatre Nisha…though each narrative piece was excellent (there *was* some flubbing of the lines in "The Pomegranate Lady", but nothing major), perhaps one could have been sacrificed, to enable the audience to get to meet the cast and crew, and have a short interaction with them too. Please bear this in mind next time!